TO THE CBD
LEARNING CENTER
Cannabidiol (CBD), a compound produced by the cannabis plant, is quickly growing in popularity and headed toward mainstream acceptance. CBD oil is finding its way into a variety of products, from tinctures and drops to CBD-infused edibles and CBD balms, as well as a wide range of cosmetics. CBD oil is even becoming popular among pet owners who wish to help their pets live healthier lives. Broad spectrum CBD oil contains a variety of active compounds such as cannabinoids and terpenes. In each other's presence, these compounds work even better.

All cannabinoids, including CBD, produce effects in the Endocannabinoid System, which is responsible for helping maintain homeostasis and balance within the body. The body naturally produces cannabinoids to help regulate functions like mood, pain, and sleep, but these can become diminished due to internal imbalances or external stressors. Supplementing the body's natural cannabinoids with hemp-derived CBD helps bring the body back to balance, and in doing so, may optimize whole body wellness. CBD is non-intoxicating--so it will not get you high. CBD works with your body's Endocannabinoid System, which is responsible for regulating many bodily functions, but has zero psychoactive effects.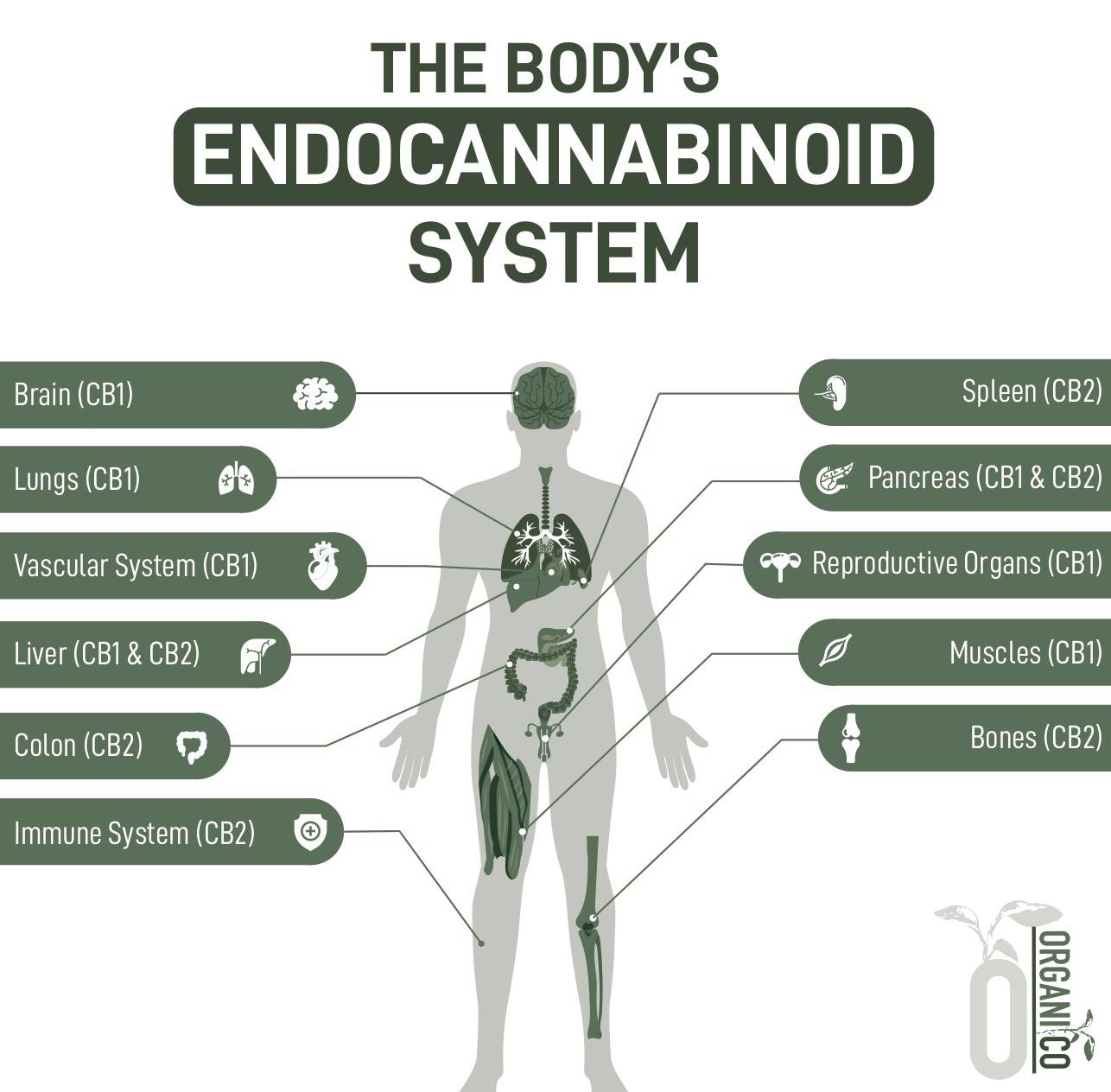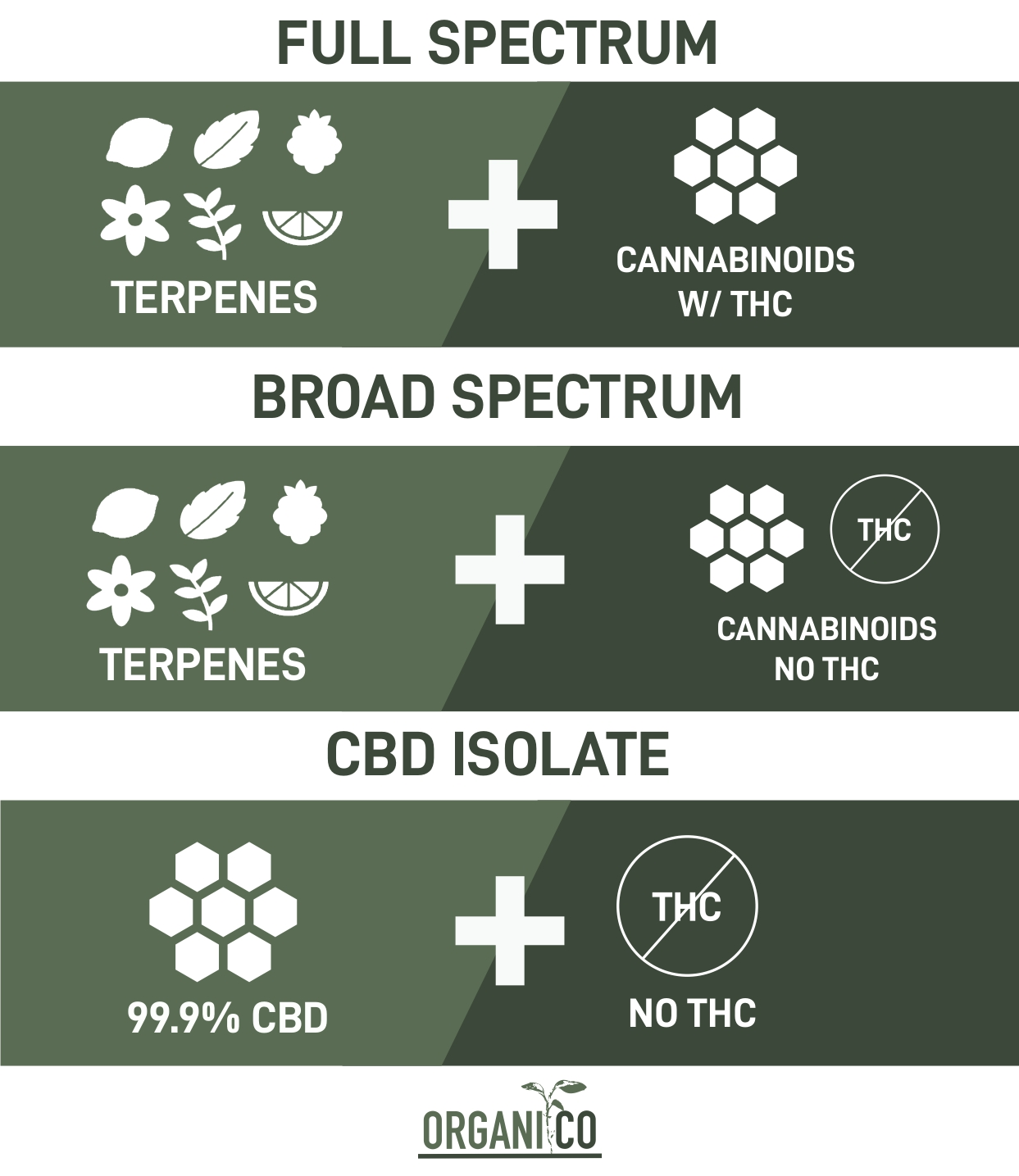 WE USE BROAD SPECTRUM CBD

Full Spectrum CBD refers to an extract created from the entire plant - leaves, flowers, stem, and seeds - without any filtering of THC. The full range of cannabinoids, terpenes, and other compounds remain intact, as well as up to 0.3%THC.
Broad Spectrum CBD products contain an array of beneficial cannabinoids and terpenes--but zero THC. To create Broad Spectrum CBD, the hemp plant must undergo additional processing to isolate and remove as much trace amounts of THC as possible--while still preserving its therapeutic properties.

CBD isolate is a purified extract that removes everything except the CBD crystals. Studies show that CBD works best when accompanied by the full range of hemp plant constituents and works most effectively together.

DIFFERENT WAYS TO TAKE CBD
CBD topicals allow you experience fast-acting pain relief via a CBD balm or ointment. It's easy to apply and effective. After absorbing into your skin, the CBD quickly distributes throughout your body and gets to work!

The tincture is one of the most popular and effective ways to consume CBD oil. Simply take a few drops of oil under your tongue and wait 30 to 60 seconds before swallowing.

Capsules are one of the easiest ways to incorporate CBD into your daily routine. All you have to do is swallow the CBD capsules and they will absorb into your digestive system at a moderate pace.

These are the fastest and most effective ways to consume CBD. When you inhale CBD through a vape or cigarette, the cannabidiol goes into your bloodstream through the lungs.

CANNABINOID

The cannabinoid is a natural compound found in the hemp plant. Although THC and CBD are two well-known cannabinoids,
there are at least 113 known cannabinoids.
NON-INTOXICATING
Non-intoxicating substances won't inhibit brain function, cognition, or physical control of the body. CBD is an example of a non-intoxicating cannabinoid that is not only safe but also beneficial for overall wellness.
ENDOCANNABINOID SYSTEM
The endocannabinoid system (also known as the ECS) is a bodily system that helps maintain homeostasis. There are ECS receptors all over the human body, including in the skin, immune cells, brain, heart, and digestive system. The ECS plays an important role in many body processes including pain response, mood, and immunity. CBD can support the ECS, which then helps support your overall wellness

HEMP
Hemp is a plant that is part of the Cannabis Sativa L. plant species. To be legally classified as hemp in the US, the plant must have very low levels of THC (less than .3%). The fibers can be used to make clothing, and the seeds and seed oil is nutritionally dense. Additionally, hemp is a sustainable building material and removes chemicals and heavy metals from soil, making it an incredibly eco-friendly plant.
BIOAVAILABILITY
CBD bioavailability is the amount of CBD that is actually absorbed into the bloodstream. This is important because the more you actually absorb into the bloodstream, the more potent the effect.CBD bioavailability is mainly determined by the type of product you take and how you take it.

HEMP SEED OIL
Hemp seed oil is a nutritious oil that comes from hemp seeds. It's rich in vitamin E, omega 3 and 6 fatty acids, linoleic acid, and oleic acids. However, hemp seed oil does not contain CBD or any other cannabinoids.
CERTIFICATE OF ANALYSIS (COA)
A Certificate of Analysis, or COA, is a report from an accredited lab that shows the official percentages of the various cannabinoids, as well as any potential contaminants, contained within a sample of the product. Any reputable CBD product should have one done by a third-party lab. Ensure the THC level is under .3% and that heavy metals, pesticides, and microbials is also included; look for "ND" ("not detected").

TERPENES
Terpenes are a large and diverse class of organic compounds, produced by a variety of plants. These compounds give cannabis plants their flavor and aroma. Cannabinoids and terpenes are known to work together to boost and modulate the effects of one another in the body's endocannabinoid system (ECS).

Experience the Difference